Disclosure: This How to Make Breakfast Sausage with Venison and its shop has been compensated by Collective Bias, Inc. and its advertiser. All opinions are mine alone. #LEMLoveToProcess #CollectiveBias
A couple of weeks ago, we went out deer hunting. I've been deer hunting several times with my husband, but this time was different. Earlier this year, I finally got my hunter safety done, along with my two oldest boys, and we put in for the deer hunt along with my husband that's been hunting for 25+ years. Well, three of the four of us received tags and we were excited to head out on the deer hunt to see if we could get a deer. One thing about the hunting we do, is that it's always to be used to eat. We process the animals ourselves in our garage and fill our freezer. We love using deer meat too because it is a lot more lean than beef. Today I'm going to share with you How to Make Breakfast Sausage with Venison. Did you know you could make breakfast sausage from deer meat? Growing up, my dad hunted a little bit, but I think anytime he did, he always had the entire animal turned into jerky. I just thought that's what you did with deer meat. I've since learned otherwise. 😉 We use deer meat several times a week for whatever we are cooking.
We were excited when on the opening morning of the hunt, my husband was able to get this little three point buck. We knew we'd have our work cut out for us, because it takes time to process an animal, but we were happy to do it to fill the freezer. It really is easier and more affordable to process your own game animals than you might think. We used to spend $300+ a year on processing. My husband and his brother decided to spend that on processing equipment for a few years, and now they have all the stuff to do their own, and we know exactly what we are eating now!
There are a lot of tools you can get that will make processing your own game animals easier, and when it comes to sausage making, a sausage stuffer comes in handy. We jumped on the LEM Products website and we ended up getting the Big Bite® Sausage Stuffer that holds 10 lbs. of meat at a time. We've made sausage before, but never with a sausage stuffer, so this made life so much easier.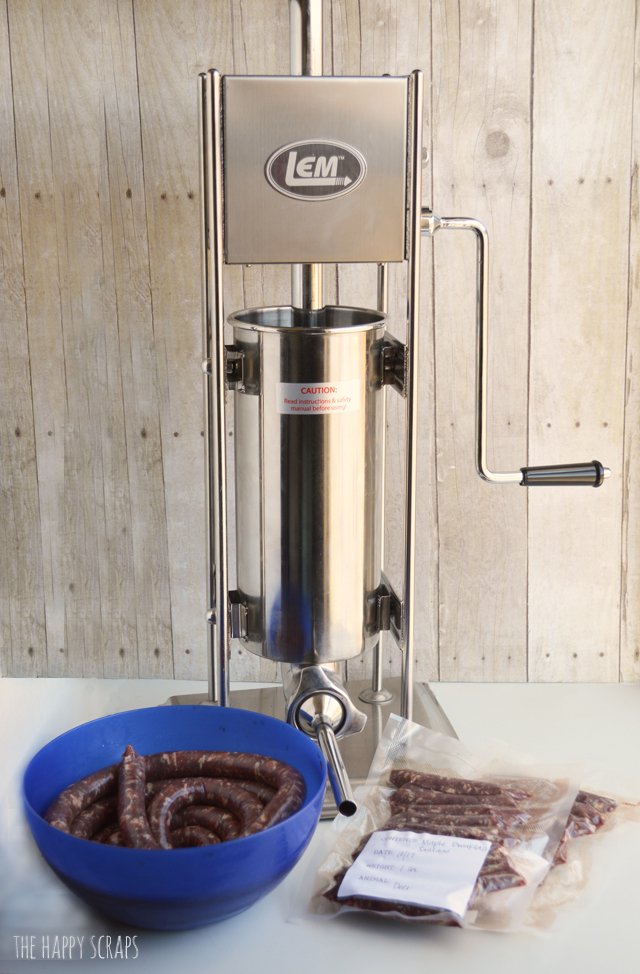 Hover over the photo above to purchase the Big Bite Sausage Stuffer.
How to Make Breakfast Sausage with Venison
To get started, once you have your deer deboned, you should have several different cuts of meat. We use the back straps and tenderlion for steaks, and then the rest of the meat usually gets turned into ground hamburger. For sausage, we use half ground hamburger mixed with half ground pork. One bag of Backwoods seasoning with season 25 lbs. of sausage. Once we have the meat measured out, we place it in the mixer. Once it's mixed together, we add the flavor mix. This time we tried the Backwoods Maple Breakfast sausage. Maple sausage is my favorite!
While the meat is mixing, you pour the season into the mixer.
Once it's mixed, you'll fill up the Big Bite® Sausage Stuffer with the mix.
You'll place your casings onto the stuffing tube and we like to tie a knot in the end of it, so we have a starting point.
You'll need one person turning the handle and one person getting the sausage to the bowl.
The lengths can get pretty long. We coil them up and place them in a bowl.
Once we're done stuffing all the sausage, then we twist them into the links.
We place them in freezer safe, air tight bags and then label them. I created this label for anyone who'd like to use it as well. (Free for personal use only.)
We cut the labels apart and then write on them what is in the package.
Then we stick them onto the packages.
Having the labels on the packages helps us to know at a glance what we have. Not only did we make Maple Sausage, but we also made Sweet Italian and just the regular Breakfast Sausage flavors, and the Big Bite® Sausage Stuffer made it easy to do! I hope this helped you learn how to make breakfast sausage with venison, and if you or someone in your family hunts, then give this a try!